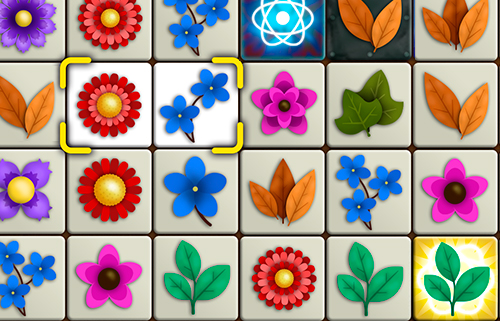 Twist It: Brain Game
Cognitive training brain game
Play "Twist It" online and boost your cognitive abilities

Get access to this scientific brain training resource

Challenge your brain
"Twist It" Brain Game: What is it?
Twist It is an online brain training game.To advance in the game, we will have to line up three or more equal pieces, being able to exchange only the position of two adjacent pieces. However, as the level of complexity of this mind training game increases, the cognitive demands will increase.
As you advance and help improve your cognitive skills trained in this online brain game, it will advance with you. Twist It is a scientific resource designed to constantly measure performance and automatically regulate the difficulty to ensure that the user is getting the most out of each training session. The mind game Twist It is appropriate for children and adults and can help improve essential cognitive skills.
How can the brain game "Twist It" improve your cognitive abilities?
Training with brain games like Twist It stimulates specific neural patterns. The repetition of this pattern through consistent training can help improve the creation of new synapses and neural circuits capable of reorganizing and recovering damaged or weakened cognitive functions.
This brain game can be played by anyone looking to test and improve their cognitive performance.
Neural Connections CogniFit
Which cognitive skills can you train with the online brain game "Twist It"?
The cognitive skills that this game trains are:
Visual Scanning: Visual scanning is essential in Twist It brain game, as we must locate similar tiles of three or more on the screen. Using this mind game it is possible to optimize our visual scanning. Strengthening this cognitive capacity helps us to be more effective in finding relevant information.
Focused Attention: In Twist It we will have to adequately detect each of the stimuli to perform the task successfully. For this, we need our focused attention, which can be stimulated by practicing this brain game. A great focused attention helps us to concentrate better on the activities we carry out. We use this cognitive capacity in our daily lives at work, school or even playing video games.
Planning: The order in which the movements are made is important, as it helps us gain more points by doing more combinations. To be able to do this, we need to organize our moves by using a strategy to get a higher score. Planning is fundamental in Twist It. Having this cognitive ability in good shape can make it easier for us to organize ourselves in a variety of situations. We often make use of our planning ability when we organize our school or university work.
Visual Perception:

To unite the stimuli without making mistakes, we will need to correctly distinguish the differences between them. This mind game stimulates our visual perception. A good visual perception allows us to correctly interpret and distinguish the stimuli that surround us.
Other relevant cognitive skills are:
Processing Speed:In this brain training game time is limited, so we must be quick to match the stimuli. In addition, the panel changes every time we combine a group of stimuli, so we have to constantly process a large amount of changing information. By playing this mind training game it is possible to stimulate our processing speed. By stimulating it with Twist It, it would be possible to reduce the time it takes to answer questions or other unexpected events. We use our processing speed to think of an answer to an unexpected question during a presentation.
Non-verbal Memory:Remembering the location of the different groups of stimuli can help us make more elaborate moves. We do this through our non-verbal memory. By practicing Twist It it is possible to train our nonverbal memory.
Spatial Perception:

If we want to exchange two stimuli, we will have to check that they are in the right position. Doing this activity can help us strengthen our spatial perception. Improving this cognitive capacity can help us to understand spatial information relative to the stimuli present. We make use of our spatial perception when adding or subtracting on paper.
Hand-eye Coordination:

In order to choose the right pieces to move, we need to position the mouse in the right place. This action requires hand-eye coordination. By training this cognitive skill we improve our handwriting, our ability of working with other objects, etc.
Shifting: During this mind game, we can use shifting in different circumstances, for example when we try to mistakenly join a series of stimuli, or when we plan to join a series of stimuli and their arrangement on the screen changes, so we have to adapt to the new situation. Correct training with Twist It can be useful to improve this cognitive capacity. Good shifting allows us to adapt to unforeseen events. We need to be mentally flexible to correct a mistake during an activity.
What happens if you don't train your cognitive skills?
The brain is designed to reserve resources, which causes it to eliminate the connections that it doesn't use often. This means that if you don't regularly use a certain cognitive skill, the brain will stop sending it the resources that it needs, and it will become weaker and weaker. This makes us less efficient when using the said function, causing us to be less efficient in daily activities.