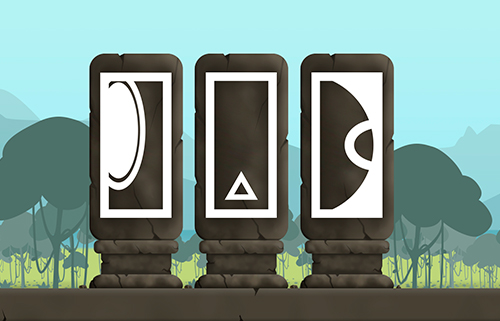 Piece Making: Brain Game
Cognitive training brain game
Play "Piece Making" online and boost your cognitive abilities

Get access to this scientific brain training resource

Challenge your brain
"Piece Making" Brain Game: What is it?
Piece Making is a brain training game. To advance in the game, we will have to memorize the three totem figures and then find the same set on one of the stones below. However, as the level of complexity of this brain training game increases, the cognitive demands will increase.
As you advance and help improve your cognitive skills trained in this online brain game, it will advance with you. Piece Making is a scientific resource designed to constantly measure performance and automatically regulate the difficulty to ensure that the user is getting the most out of each training session. The mind game Piece Making is appropriate for children and adults and can help improve essential cognitive skills.
How can the brain game "Piece Making" improve your cognitive abilities?
Training with brain games like Piece Making stimulates specific neural patterns. The repetition of this pattern through consistent training can help improve the creation of new synapses and neural circuits capable of reorganizing and recovering damaged or weakened cognitive functions
This brain game can be played by anyone looking to test and improve their cognitive performance.
Neural Connections CogniFit
Which cognitive skills can you train with the online brain game "Piece Making"?
The cognitive skills that this game trains are:
Visual Short-Term Memory:It will be necessary to keep all the stimuli we see in our memory for only a few seconds. To achieve this, we use our visual short-term memory. By playing Piece Making, it is possible to train our visual memory. Improving this cognitive skill can help us to retain visual information more easily. We used our visual short-term memory in academic settings to remember what was written on the blackboard before it was erased.
Visual Perception:

In this brain game we need to distinguish each stimulus well so as not to confuse it with other options. By playing this brain game we are strengthening our visual perception. A good visual perception can help us extract relevant details from the information that reaches our eyes. It is essential when reading and understanding documents.
Recognition:

This brain game has two phases. The first phase is the learning phase, in which we have to memorize the stimuli that appear. After a few seconds, the second phase begins, which is the recognition phase. In this second phase we must recognize the set of stimuli presented in the first phase, but on this occasion, the stimuli are mixed with other similar ones as a distraction. In this second phase, we will be stimulating our recognition capacity. We use our recognition in a variety of everyday situations, such as when we see a person we haven't seen in a while, or when we recognize our car among the other parked cars.
Other relevant cognitive skills are:
Working memory: In the brain training game Piece Making it will be necessary to retain the image as a whole in order to be able to identify it below. This is possible thanks to our working memory, which can be trained with this mental game. Strengthening our working memory allows us to remember and manipulate information more efficiently.
Short-Term Memory: We only need to retain the information for a few seconds and then forget about it once the task is completed to avoid interference. This can be achieved with our short-term memory. By playing Piece Making, the neural networks involved in this cognitive skill are stimulated. Having a good short-term memory allows us to keep information for a short period of time. This is one of the essential cognitive skills we use when understanding others.
Non Verbal Memory: By remembering the stimuli that have appeared we will be using our non-verbal memory. Training this cognitive skill with Piece Making, allows us to mentally retain images, figures, photographs, etc. This cognitive ability is essential when drawing.
Inhibition:

The initial tendency may be to choose the first option that looks a little like the stimuli shown, but we will have to avoid an impulsive response and look at all the options first, to avoid confusion. In order to not be rash, this game trains our inhibition. Improving this cognitive ability can help us control these impulsive behaviors, just as it allows us to remain seated and quiet in class, or to stop and reflect while taking a test.
Focused Attention: In this brain game you have to detect the details and the differences between each option. By playing Piece Making, we stimulate our focused attention in order to meet the goals. Improving our focused attention is important to be more efficient, for example, when searching for a street number.
What happens when you don't train your cognitive abilities?
Our brains are designed to save resources and be as efficient as possible, which is why it erases the connections that aren't being used. This is why if a certain cognitive skill isn't used frequently, the brain doesn't supply it with the resources it needs, and it becomes weaker and weaker. This makes us less able to use the weakened cognitive skill, making us less efficient in activities in our daily lives.