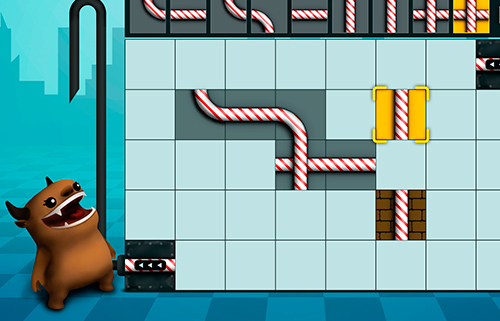 Fresh Squeeze: Brain Game
Cognitive training brain game
Play "Fresh Squeeze" online and boost your cognitive abilities

Get access to this scientific brain training resource

Challenge your brain
"Fresh Squeeze" Brain Game: What is it?
Fresh Squeeze is an online brain training game . In order to advance through the levels of this game, the user will have to locate the indicated number of pipes for the liquid to reach the monster's mouth. As you progress through the levels, you'll be using more parts of your brain and the cognitive challenge will be even greater.
As you advance and help improve your cognitive skills trained in this online brain game, it will advance with you Fresh Squeeze is a scientific resource designed to constantly measure performance and automatically regulate the difficulty to ensure that the user is getting the most out of each training session. The mind game Fresh Squeeze is appropriate for children and adults and can help improve essential cognitive skills.
How can the brain game "Fresh Squeeze" improve your cognitive abilities?
Training with brain games like Fresh Squeeze stimulates specific neural patterns. The repetition of this pattern through consistent training can help improve the creation of new synapses and neural circuits capable of reorganizing and recovering damaged or weakened cognitive functions
This brain game can be played by anyone looking to test and improve their cognitive performance.
Neural Connections CogniFit
Which cognitive skills can you train with the online brain game "Fresh Squeeze"?
The cognitive skills that this game trains are:
Spatial Perception:

In this brain game Fresh Squeeze, the user must position the parts correctly in the precise orientation and at the right point on the plane. By practicing this brain exercise, it is possible to stimulate our spatial perception. Improving this ability can help us perform better in our environment, such as when we have to read a map or organize the dishwasher.
Planning:

This brain game requires us mentally establish the most appropriate route, selecting the right parts at the right time. In doing so, we are stimulating our planning capacity. Improving this cognitive ability helps us to be more efficient in our daily lives. For example, when we have to think about the steps to take to achieve a goal.
Updating:

To advance in this brain game we must build the path that will allow us to reach our goal. In some cases, we will need to correct and adapt our behavior to get from one point to another using the right number of pieces. By practicing this brain game we are training and helping to strengthen the neural connections involved in our updating skill. Improving this cognitive ability is fundamental to our daily lives, as it can help us to detect errors more easily. For example, when we are writing, telling a story, or when we have to assemble a piece of furniture.
Other relevant cognitive skills are:
Processing Speed:

This brain game "Fresh Squeeze" requires us to construct the correct way in a limited amount of time. We need to process all the data to come up with a route and action plan as soon as possible. By practicing this exercise we are stimulating and helping to strengthen the neural connections involved in our processing speed. Improving this cognitive ability can help us be more efficient in performing a mental task. For example, the change we must receive after a purchase.
What happens when you don't train your cognitive abilities?
Our brains are designed to save resources and be as efficient as possible, which is why it erases the connections that aren't being used. This is why if a certain cognitive skill isn't used frequently, the brain doesn't supply it with the resources it needs, and it becomes weaker and weaker. This makes us less able to use the weakened cognitive skill, making us less efficient in activities in our daily lives.