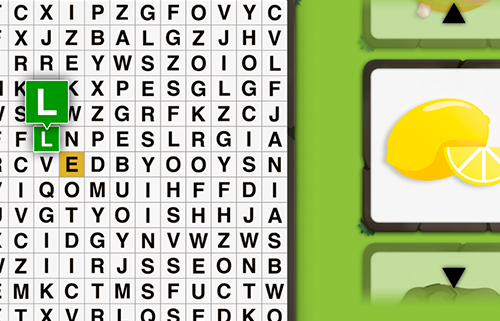 Brain Game: Word Quest
Online Brain Training Game
Play "Word Quest" and boost your cognitive abilities

Get access to this scientific brain training game

Challenge your brain
"Word Quest" brain game: What is it?
Word Quest is a brain game that stimulates different cognitive skills. This game consists of finding words in a word search, as quickly as possible. The target words will appear at the bottom of the screen as an image, and the user will have to identify the object depicted and name it, to then be able to search for the word in the letters. As the user advances through the levels, more cognitive resources will be used.
This online brain game will become increasingly more difficult as the level increases. Word Quest is a scientific resource designed to continuously measure performance and automatically adjust the difficulty to suit each user, which optimizes cognitive training. Word Quest is recommended for children and adults who want to train and activate essential cognitive skills.
How can "Word Quest" improve your cognitive abilities?
When you activate a cognitive ability in the brain, neural patterns activates.
Neural Connections CogniFit
What cognitive skills can you train with "Word Quest"?
The cognitive skills that you can improve with this brain game are:
Visual Scanning:

In this brain game, the user has to find the target word amid other letters, which requires visual scanning. Visual scanning is an important skill that we use in a number of daily activities, like looking for a certain file on your computer or scanning a text for typos. Playing Word Quest may help improve visual scanning and make you more efficient in daily activities.
Naming:

In this brain game, the user will have to name the obect that is depicted as an image at the bottom of the page. This action will train naming, and improving naming can help you be more efficient and precise when trying to remember a specific word.
Visual Perception:

This brain game will ask the user to correctly identify each letter in a word. Doing this in Word Quest will help train and improve a fundamental skill that we use in our daily lifes, which may help you become more efficient when reading and understanding texts.
Other relevant cognitive skills are:
Field of View:

This brain game will require the user to pay close attention to a single point, as well as what's around it. Doing this will train field of view, which may help reduce car accidents or make it easier to understand written text.
Response Time:

This game imposes a time limit on the user, so it's important that they answer as quickly as possible to find the word before the time runs out. Training reaction or response time with Word Quest can help you become more efficient in your daily life, like when you have to react to an accident on the road or when something falls on the floor.
Focused Attention:

During this game, the user will need to find the correct letters as quickly and accurately as possible. This is a process that we also use when we read, as well as in a number of other daily activities. Word Quest can help you learn to correctly distinguish between letters in order to read more efficiently.
What happens when you don't train your cognitive abilities?
Our brains are designed to reserve resources, so it eliminates the neural connections that it doesn't use often. This is why if a certain cognitive skill isn't used frequently, the brain will stop sending it the resources it needs and it will become weaker and weaker. This weakening of the neural connection makes it more difficult and less efficient when using a certain cognitive skill, making you potentially less efficient in your daily life.