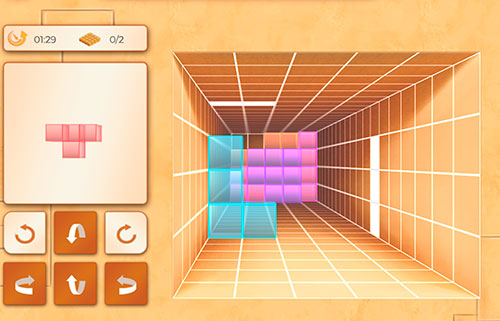 Cube Foundry: Brain Game
Cognitive training brain game
Play "Cube Foundry" online and boost your cognitive abilities

Get access to this scientific brain training resource

Challenge your brain
"Cube Foundry" Brain Game: What is it?
Cube Foundry is an online brain training game . In order to advance in the game, we will have to place the 3D pieces in the appropriate positions to complete walls and thus make the pieces disappear, avoiding accumulation. As you progress through the levels, you'll be using more parts of your brain and the cognitive challenge will be even greater.
As you advance and help improve your cognitive skills trained in this online brain game, it will advance with you Cube Foundry is a scientific resource designed to constantly measure performance and automatically regulate the difficulty to ensure that the user is getting the most out of each training session. The mind game Cube Foundry is appropriate for children and adults and can help improve essential cognitive skills.
How can the brain game "Cube Foundry" improve your cognitive abilities?
Training with brain games like Cube Foundry stimulates specific neural patterns. The repetition of this pattern through consistent training can help improve the creation of new synapses and neural circuits capable of reorganizing and recovering damaged or weakened cognitive functions
This brain game can be played by anyone looking to test and improve their cognitive performance.
Neural Connections CogniFit
Which cognitive skills can you train with the online brain game "Cube Foundry"?
The cognitive skills that this game trains are:
Spatial Perception:

To advance in this game we will have to mentally handle different spaces and shapes. By placing the different 3D parts in the right positions we will test and activate our spatial perception. By practicing this brain exercise, it is possible to stimulate our spatial perception. Improving this ability can help us perform better in our environment, such as when we have to detect the distance between our car and its surroundings or organize the dishwasher.
Planning:

To advance in this brain game we will have to place the pieces in a specific order and position to get points. Planning ahead can help us achieve our goal more efficiently. In doing so, we are stimulating our planning capacity. Improving this cognitive ability helps us to be more efficient in our daily lives. For example, when we have to think about the steps to take to achieve a goal.
Processing speed:

The blocks will advance at a fast pace, so it you will have to think quickly where to place it. To do this, we will need a good processing speed. The processing speed is relevant in our daily life to find solutions, understand or relate concepts in an efficient way, like when we pay attention in class to what the teacher says or when we read a book.
Other relevant cognitive skills are:
Hand-eye Coordination: In the brain training game Cube Foundry it will be essential that we press the appropriate keys according to the turn or movement that we want to make. By practicing this brain game we are training our precision and hand-eye coordination. Stimulating this ability can help us to be more efficient in performing manual precision activities, such as writing on paper or using the computer.
Working memory:

In this brain training game you need the working memory to retain and mentally manipulate the tiles in order to fit them correctly into the 3D space. By playing this game we activate and help strengthen our working memory. Improving this cognitive ability is essential for complex cognitive tasks such as language comprehension, reading, mathematical skills, learning or reasoning.
Updating:

In "Cube Foundry" brain game, we must continually make sure that the pieces are in the right position and orientation and that they are moving to the right place. If the pieces are grouped together incorrectly we will be eliminated. So to move forward, we must be able to realize our mistakes and adapt our behavior and strategy to changing circumstances. By practicing this exercise, we are activating and strengthening the neural connections involved in our updating skill. Improving this important cognitive skill allows us to be more efficient in updating our behavior and making sure it fits the circumstances, plan of action, or goal we want to achieve. For example, when we realize we have made a mistake when reading or writing a sentence.
Response Time:

To advance in this mind game, we need to be quick in placing the piece in the correct position and orientation. By practicing this exercise we are activating and strengthening our reaction time or response time. Improving this cognitive ability allows us to be more efficient in various aspects of life, such as sports, driving or reasoning.
What happens if you don't train your cognitive skills?
The brain is designed to reserve resources, which causes it to eliminate the connections that it doesn't use often. This means that if you don't regularly use a certain cognitive skill, the brain will stop sending it the resources that it needs, and it will become weaker and weaker. This makes us less efficient when using the said function, causing us to be less efficient in daily activities.