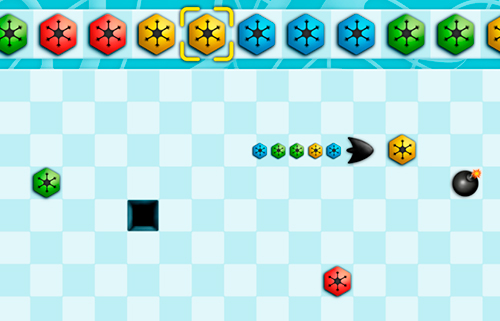 Neuron Madness: Brain Game
Cognitive training brain game
Play "Neuron Madness" online and boost your cognitive abilities

Get access to this scientific brain training resource

Challenge your brain
"Neuron Madness" Brain Game: What is it?
Neuron Madness is an online brain training game. In order to advance through the game, we need to collect the balls (neurons) in the suggested order, avoiding collisions or passing through a different color ball. As you progress through the levels, you'll be using more parts of your brain and the cognitive challenge will be even greater.
This brain game will automatically become more difficult to suit the user's cognitive level. Neuron Madness is a scientific resource designed to continuously measure cognitive performance, and automatically adjust the difficulty to optimally train cognitive skills. The brain game Neuron Madness is suitable for children and adults to train and activate essential cognitive skills.
How can the brain game "Neuron Madness" improve your cognitive abilities?
When we use a certain cognitive skill, our brain gives it specific neural patterns. The repetition of this pattern (using and practicing the cognitive skills) makes the neural activation quicker, more precise, and more efficient . This more efficient activation strengthens cognitive skills, which makes it possible to optimize daily activities.
Neural Connections CogniFit
What cognitive abilities can you improve with "Neuron Madness"?
The cognitive skills that this game trains are:
Focused Attention:

In this brain game, it's important to be able to detect and recognize the target stimuli, responding to them quickly and efficiently. Doing this helps train focused attention, and improving this cognitive ability helps minimize distractions and makes you more efficient in daily activities that require this attention ability, like when you have to pay attention in class or in a meeting.
Visual scanning:

It is necessary to locate the stimuli in the and pick them up. For example, we use visual scanning when trying to locate food in the fridge, or when looking for a friend in a concert.
Inhibition:

As the difficulty progresses, the target stimuli may suddenly change color. For this reason it is necessary to inhibit the action of picking it up when it changes color. Our environment is complex and constantly changing and often we will take an action that is not appropriate to the situation, because the situation has changed or we have made a mistake. It is very important to be able to stop in time to avoid these problems. This happens when we are going to cross a street and sudddenly discover that a car is approaching at high speed.
Other relevant cognitive skills are:
Planning:

In Neuron Madness, the user has to establish the best route to the objective. If the user is able to plan their moves, they may be able to improve this cognitive skill. Planning is also used when driving in order to find the fastest route possible to the office.
Spatial Perception:

Neuron Madness has been designed so we have to calculate distances and foresee possible collisions. Doing this uses and trains spatial perception. Improving spatial perception can help you be more diligent when moving in the space around you, helping to avoid crashes and accidents with the objects in your environment. This skill is especially important when driving, as it helps you determine the space you have to park, keeping you from hitting the car next to you.
Shifting:

In this brain game it's important to adapt to new objectives and restructure our strategy. Doing this requires flexibility and cognitive shifting, which can be practiced with Neuron Madness. Cognitive shifting can also help us in other activities, like changing your route to work when there is an accident.
Response Time:

Neuron Madness is a game that is in constant movement, we need good reflexes to dodge obstacles and reach the objective.This game will help train and strengthen the brain areas used in response or reaction time. Improving this cognitive ability makes it possible to be more efficient when responding to stimuli and situations. For example, when playing a sport and our response has to be quick in order to win.
Divided attention:

In the brain game Neuron Madness, the user will have to keep track of all the simultaneous stimuli happening. This is a cognitive skill that we use in our daily lives in a number of skills, like when driving, walking, or working. People with difficulties in this cognitive skill can only process a limited amount of information, which may make them easily distracted. Training this cognitive skill with Neuron Madness may make it easier to face other situations where divided attention is required.
Processing Speed:

In this game it's important to evaluate and think quickly what is the best route to reach the objective without colliding. Doing this uses and trains processing speed. Improving processing speed can help you be more diligent and take less time on mental tasks. For example, listening to a question and quickly answering correctly. The faster our processing speed the more efficient our learning and thinking processes will be.
What happens if you don't train your cognitive skills?
Our brains are designed to save resources and be as efficient as possible, which is why it erases the connections that aren't being used. This is why if a certain cognitive skill isn't used frequently, the brain doesn't supply it with the resources it needs, and it becomes weaker and weaker. This makes us less able to use the weakened cognitive skill, making us less efficient in activities in our daily lives.